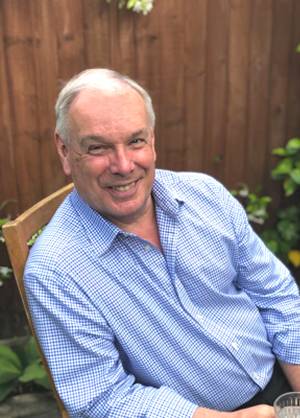 Roy originally started working as a professional medium on the Spiritual church platforms in the South East, where he continues to be in great demand for his schedule, which is always planned over a year ahead.
He has and does work across many Spiritual churches in and around London including Acton, Amersham, Aylesbury, Barnes, Camberley, Chertsey, Ealing, Farnham, Finchley, Fleet, Fulham, Garston, Harrow, Hounslow, Kenton, London Spirit Mission, Maidenhead, Reading, Ruislip, Slough, Windsor and Woking. Roy also offers personal sittings and healing at his home in Buckinghamshire.
He has a warm and inclusive style providing sound evidence and clear messages in all of his spiritual sittings. Roy's personable approach ensures that his visitors feel relaxed and secure whilst he brings forward sound evidence and clear messages. The peaceful and serene setting of his home only enhances the special atmosphere.
The death of a loved one is an event that all of us will experience during our lifetime and our lives can often be transformed by such loss. Dealing with the grief caused by such a loss can be central to recovery, especially with someone young or in the case of an unexpected or sudden parting. A Psychic Sitting with Roy gives you the opportunity to hear from your loved ones and family thus, in some way, reducing the pain of the earthly loss. It gives us strength to know our loved ones have not left us for good but are merely "in the next room". It can also be hugely powerful to have messages passed to us through a direct channel such as the medium, Roy Sunley.
The time spent with Roy is just like speaking to a long time family friend. Although it can't always be determined who will come to communicate from Spirit, we can be sure that the messages will be pertinent for that person (or another close family member) at that particular time.
Personal & Group Psychic Healer, Trainer & Instructor
Roy has been a Natural Healer since childhood and uses his innate gift in all his healing work. After a highly successful and senior corporate career, Roy was compelled to explore his natural abilities to heal and facilitate positive change in people's lives. He therefore took a bold step out of the commercial world and transported himself into a world where he is truly able to help and support people who can benefit from his healing approach.
He is a Reiki Practitioner and Reiki Master Teacher who uniquely combines the art of Natural Healing and Reiki with the powerful techniques of "Quantum Touch®" (QT), (where he is also a QT Practitioner and Certified Instructor) to achieve remarkable healing outcomes for his clients. He also teaches Reiki and Quantum Touch to professional therapists and to people who are interested in learning the highly beneficial practice of self healing. Roy is a full member of the College of Psychic Studies. He spends a great deal of time researching new modalities of healing and working with other healers to ensure he is always using the most effective methods available.
Roy also holds a Diploma in Mindfulness, Meditation and Relaxation and teaches "Learning to create balance and harmony through the ancient art of mindfulness". These courses bring about inner peace and emotional harmony and enhance your experiences on a day to day basis with colleagues, family and friends.
He also works closely in his practice with his wife Sharon who is a qualified Quantum Touch Practitioner, Master Practitioner of NLP and Time Line Therapy and a Chartered Fellow of the Institute of Personnel & Development.
Roy is also a practising psychic and medium. For more information about his upcoming appearances at Spiritualist centres and churches in the South East, please see the diary page To make an appointment for a personal sitting, get in touch by phone or email.
IMPORTANT NOTE:
In light of the continuing situation regarding personal contact dutring the pandemic, I am going to leave my one-to-one practice closed until further notice.
I found Roy to be a compassionate and caring teacher and very considerate of everyone's individuality. Roy ensured that all the exercises enabled the student to gain a deeper understanding of the subject. He is an excellent teacher and an inspiration." Jane W.
Roy is a very knowledgeable, experienced teacher who is a great storyteller and it shows that he really wants everyone to understand what he teaches. The distance / remote healing was particularly outstanding as was the lovely location for the course." Muli S.
Roy Sunley is a great healer who works from a place deep within himself. I have been blessed to have had Roy as a Tutor and Mentor teaching me Reiki, Quantum Touch and have had Mediumship Readings from Roy. I have benefited personally and his healing has also helped other members of our family. I recommend Roy and hold him in high esteem." Jitendra Taylor
I attended a workshop at Roy's lovely Coach House in the peaceful and beautiful grounds at Kilnwood. Roy has a very calming intuitive way about him. The class worked so well together under Roy's guidance. He made learning stress free and worked at a pace to ensure everyone felt comfortable with the methods taught. I can't wait for the workshop next month. I highly recommend Roy as a Quantum touch Instructor. Thank you Roy for leading me on this new journey." Judy Sawyer
During The treatment, Roy explained what he was doing in such a caring and professional manner; the overall treatment left me feeling totally relaxed and calm and a lot of my pain had gone. Having arranged two further appointments (and recieved the same amount of professionalism) I received further relief from the pain for which I am truly grateful. In fact, I get no pain from my shoulder now. Roy did show me how to self treat so I am pleased to say the pain in my legs and spine is now minimal. Should it get worse I would not hesitate to make a further appointment with Roy." Margery Hopkins