Psychic Sittings
Psychic Readings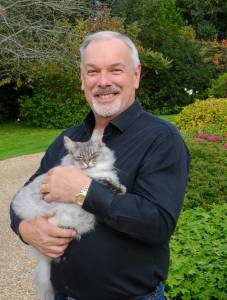 When a loved one, family member or close friend passes to Spirit, especially when someone young or in the case of an unexpected or sudden parting, we grieve and suffer in our own way. In some cases, this pain can last for many years and can seem to be unending. A Psychic Sitting with Roy can be a most relaxing and positive experience and provides an opportunity for you to hear from your loved ones and family. It can be enormously helpful in reducing the pain of that earthly loss and in helping people to come to terms with their grief. Much strength can be gained from knowing that our loved ones have not left us for good; we can still be in contact with them and that we will, one day, see them again. It is a great gift to realise that they can pass messages to us through a channel such as Roy.
Roy's own personal experience reinforces this. Like many people he has lost parents, other close family members, dear friends and work colleagues. He is therefore only too aware of the pain and loss felt by the personal separation that comes with losing a loved one. Someone who we relied on or even in cases where there was "unfinished business" due to lack of time.
The time spent with Roy is just like speaking to a long time family friend. Although it can't always be determined who will come to communicate from Spirit, we can be sure that the messages will be pertinent for that person (or another close family member) at that particular time.
Prices, Booking and Cancellation Policy
Prices for a private psychic sitting of mediumship – £60.00 for an hour. Concessionary rates are of course available.
A private sitting will normally last up to 1 hour. Please note that we need 48 hours notice to cancel or reschedule appointments otherwise the full amount will be charged. Please arrive for your appointment on time and switch off your mobile phone during the sitting.
Many people come to Roy looking for messages and guidance from departed loved ones in Spirit or Spirit Guides that might steer them towards the right path in the future. Time and time again we see how this can provide insight and guidance in our daily lives. Sometimes our relationships are experiencing difficulty or important and challenging decisions have to be made about our home or working lives. A session with Roy may significantly help in such instances through his ability to connect and channel with Spirit for guidance.
Roy has very powerful gifts and these are enhanced by over 40 years of working with people in various guises across the Globe, thus providing him with in depth knowledge of many cultural, religious and spiritual teachings. His time travelling has therefore provided Roy with a unique sensitivity to the many cultural issues a Psychic Medium has to deal with, especially when working with a wonderful diversity of clients.
From time to time, Roy will be running psychic development training workshops and development circles. Take a look at the diary for any future planned dates
Thank you for my lovely message from my Dad and granny, as I think I mentioned no one has ever given me such fine detail from my wonderful dad, the great storyteller. You have no idea (actually perhaps you have) how much I needed his reassurance at this moment on my journey. It is not often our church is blessed with such an excellent Medium, your style is wonderful, your energy, the evidence you gave and your gentle humour were a breath of fresh air. I do so hope we meet again soon." Jenny Brown: Medium
I was absolutely stunned! Roy knew things about my dad he could not possibly have known. That was a very powerul experience" Alex
Thank you Roy for such a professional and uplifting service here at Reading Spiritual Church. Excellent address and very evidential clairvoyance. You are a credit to spiritualism. There was plenty of love and laughter in the church and we very much look forward to your next visit." Reading Spiritual Church
I confirm that it was my grandfather Nonno you brought through last night. The family history from that side is hazey so all he could do to validate was through my father, his son. All the details have turned out to be correct so thank you again Roy." Cristina
I just wanted to let you know that I got a chance to catch up with my mum earlier - and I'm sure it's of no surprise to you that everything that came through was very accurate. The story of the new front steps and the budgeting book is something mum thinks of often. Nanny was delighted with the steps..much to the dismay of the rest of the family!

Thank you very much for the reading and your kind advice, it was greatly appreciated and a huge comfort. Look forward to seeing you again in the future." Alice Sheehan
I really, really enjoyed the session. In fact I left laughing about how you were explaining my grandmother, it was totally her. Everything felt so spot on and it couldn't be more clear and precise. I felt very relieved afterwards and in fact it's just helped me so much with what I'm trying so hard to achieve." Casey G